About The Collection:
The collection is big, Really Big, especially for something that is so small. Thousands big, probably the biggest in the world big. Maybe I could get in Guiness.

For posterity, the moist towelettes are stored air-tight in a cool dark environment.

The Collection includes 5 galleries:
- by Name
- by Virtue
- International
- Multi-packs
- Other

Additions in the By Name gallery means that the packaging states "moist towelette." The best, my favorite.

For ones in the By Virtue gallery, this denotes that it has a different name such as "moist wipes, but we all know it is a moist towelette. Can't fool us!

International hail from anywhere other than the US and Canada. Some Canadian additions might have sneaked into this category too. Naughty, naughty.

Multi-packs are what they say they are. More than 1 per pack. Genius.

Items that are packaged like moist towelettes, but are for different purposes are in the Other gallery.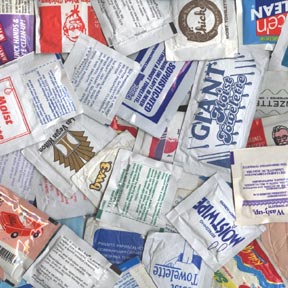 About Moist Towelettes:
Moist towelettes are sensible and the packaging is often thoughtful, creative, or funny. Even if it has boring packaging, it will still keep one clean(er).

Moist towelettes have historical and cultural significance, for reals. To think about the inventions that had to take place for me to hold a moist towelette in my hand is humbling.

_______

About the Contributor Galleries:
When folks have contributed at least 20 moist towelettes to the collection, they are given their own gallery. Links to the individual galleries are located at the bottom of each page. Some folks were given pages before the 20-minimum rule was implemented are under a grandfather-clause. Sorry Kids, you must have 20, but I still loves ya.

_______

About me:
I live and work in Los Angeles.
I heart moist towelettes.
I heart my boyfriend.
I heart my family.

Email J.B. Popplewell.